WordPress Speed Optimization
WitsBro WordPress Speed Optimization Services are for those who is looking for long term growth in their business. With a fast loading website you can generates potential customers to your business showcasing your services.
With our in depth knowledge in wordpress speed optimization we can make your website load fast. In fact Search Engines love the websites which load faster and it fast loading is one of the criteria for ranking your website in Search Engines.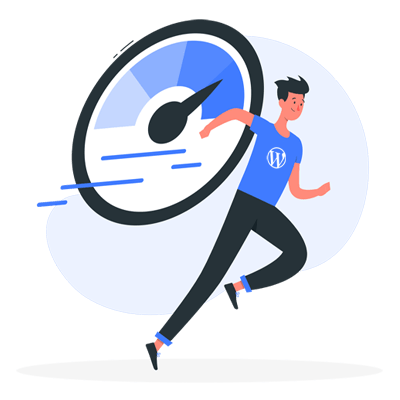 Fast Loading Website increase better ranking in Search Engines.
We start analyzing your web site on various speed measures and start implementing the minimization of scripts to make your website load faster.
Optimize Website Loading Speed to
In this fast moving world people don't wait for more than 3 seconds to see the results for their search query. If you're business is a service oriented or product oriented then you need to make your website load quickly to convert the user into a potential customer.
Even most of the search engines consider page speed as a ranking factor as they what to show the results for people who search for products or services on their platforms.
If you're business website or product page is not loading quickly then you are losing your potential customers who lands on your webpage.
Want to know how long your site takes to load? Here is a tool by Google which can tell you how much time it takes to load your website completely.
Boost your Website Traffic and Increase Revenue with a fast loading website
We at WitsBro with a vast knowledge on the WordPress website development we know the key elements that are to be optimized to make your website load faster.
If your website is on WordPress and it is taking long time to load then with our WordPress speed optimization techniques we make your business website or product page to load faster on all the devices without disturbing its structure.
We consider loading time as one of the prime factor in our website designing services. Well if your website is already built and you are just looking to reduce its loading time we will help you out.
What all we do in our WordPress Speed Optimization Service?
There are many factors for a slow loading website. Some of them are your web hosting's, image weight, browser cache, CSS, Java Scripts and many more.
We analyse your entire site and figure out the reasons for slow loading of your website. We start optimizing key elements which can makes website to load quickly.
Successful Online Business
with us. Want to know how to do this?